What is Building Hugger?
Building Hugger is a design/build construction firm that focuses on preservation trades and reinvestment services in the city of Detroit. Most of the work we currently do is historical window restoration and repair. We're starting to get into other specialty needs like door repair and small scale decorative plaster work and hope to take on other dying trades that are becoming difficult to find.
When I moved back to Detroit in 2011 I started Building Hugger with a question: "How can I be a good steward of Detroit's built environment?" I was transitioning from a career in corporate architecture, so I started down that path and did mostly freelance design work in the city, but to only have design as a service didn't always fit into projects. Detroit values doers so for me it was a natural transition into "doing", making construction my primary service and voice for advocacy. I bought an auction property in 2012 and wanted to see what I could do myself and windows seemed like an easy fit. I took a Michigan Historic Preservation Network trades class with no intention of doing it as a business. However, I knew how hard it was to find contractors that knew historical trade skills. Low supply and high demand drives up cost, pricing restoration work out of most projects. I saw this as a barrier for people that wanted to do well by their building and invest in it properly. Favors for friends on the weekends eventually became a full-time gig and grew into a business. The American Dream, right?
Building Hugger is now at 7 people, full-time and part-time, and growing. I have to train people in house to do a lot of the work. It opens up opportunities for women because I'm more accepting of unexperienced workers. 50% of my team are women. As a woman in construction, I didn't have anyone to look up to. I learned how to be one of the guys. It's really important to be an example and show that women can do this kind of work, especially being small in stature. People assume I can't do physical work because of my size, but that has never been a limitation.
What was your experience in the Build class?
I entered the Build class in January when I was still a one-person crew. Build motivated me to find the time for working on the business and not just in the business. The first day of class my facilitator said, "You are one person…what can you get rid of?" I immediately went home and found a bookkeeper, then hired my first person, then found someone to do my website. It's been nothing but uphill since.
It's been an incredible growing experience. I don't know if I could have done it without the network or support Build has provided. To know there are other people that are opening businesses and going through the same challenges I was facing – Build was like a support group.  I feel like we learned together. Everyone at the table had something to offer in terms of knowledge and insight to what worked or didn't work in the field versus abstract business concepts.
The social media community Build fosters has been incredibly valuable even in my short time as a graduate. It's definitely increased my network, which has increased my potential client pool because people know about me and I'm supportive of their businesses as well.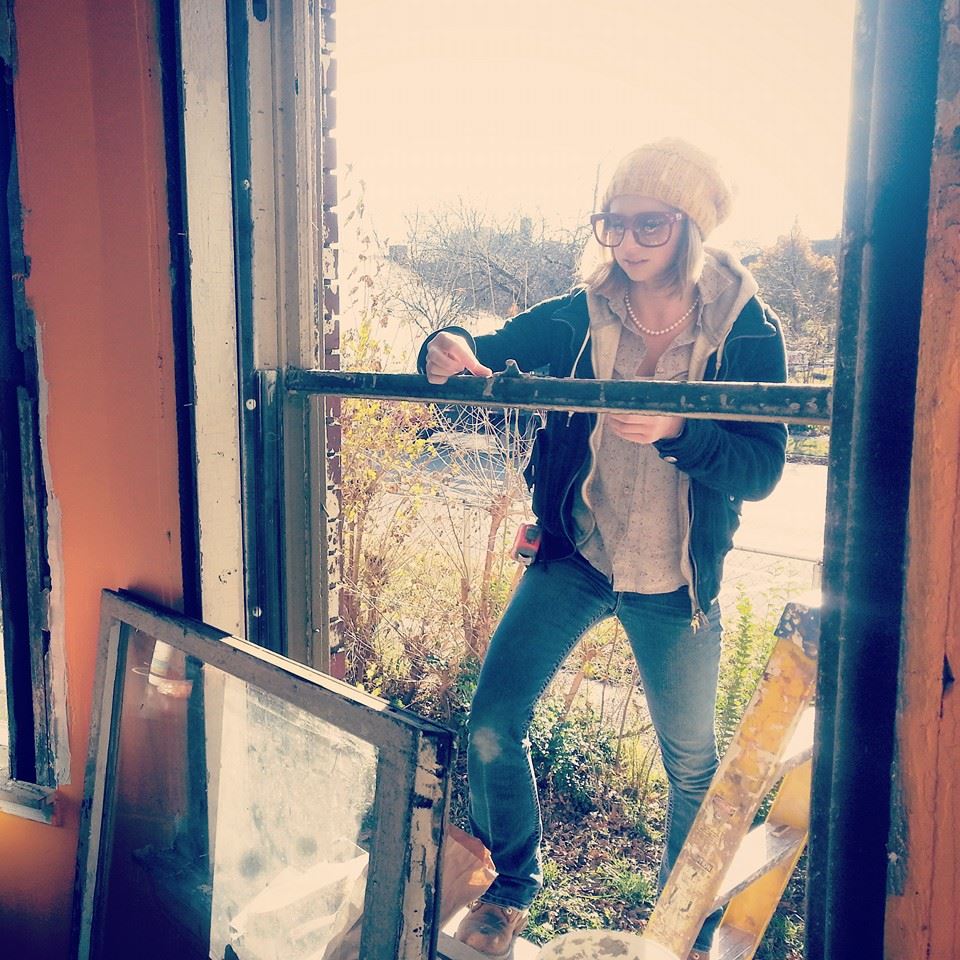 "The first day of class my facilitator said, "You are one person…what can you get rid of?" I immediately went home and found a bookkeeper, then hired my first person, then found someone to do my website.." 

What are your recent developments?
By the end of the Build class my then 4-person crew had moved into a 500 square foot shared workshop space in April. By May we had far outgrown that space so we moved into a new 2,000 square foot workshop. We spent the month of July building it out from scratch, buying shop tools and building work benches. It's increased our capacity, which has increased our ability to take on work. We definitely have a lot of room to grow into the space. We're a NEIdeas finalist, which would really help in finalizing our shop build out and finding the highest capacity for work there, so we've got our fingers crossed.
Design is still a part of our service offerings and we've had some design work on the books this year as well. We've done renovation designs for a number of residential properties. We're also playing the role of re-use specialist for the McClure's office renovations. For that we're building a reclaimed wood wall, installing a salvaged factory window with special art glass, and fabricating a custom light fixture out of pickle jars. It's been a lot of fun and I hope to do more of that.
We are also starting to do historic tax credits since a lot of the work we do affects the façade. We've started to offer this as a service to help the building owner make the window work more feasible through the tax credit process. It also gives us a chance to consult on what kinds of alterations or improvements would be acceptable or not to pursue on historic properties. The biggest challenge, albeit the most exciting challenge, is making historic preservation work in a city whose budgets aren't typically in line with this kind of renovation. I want to make preservation accessible.
What is your long-term vision?
My goal is to gain some more efficiency in the shop as we get settled so we can take on large development projects.  This will allow us to give back more service hours to community groups and nonprofits. I also hope to continue to expand our services to different kinds of preservation trades like plasterwork, masonry, and other kinds of oddball or dying trades.
Detroit has been blessed with a rich architectural heritage. If we don't take proper care of it we will lose that heritage. That doesn't just mean loss through deconstruction or neglect, but also improper redevelopment. It's just as important to be focused on preservation tactics in an economic downturn as it is in an economic upswing. A building is an archive of all of our histories. It's our collective heritage.