Tell us about Human Scale Studio!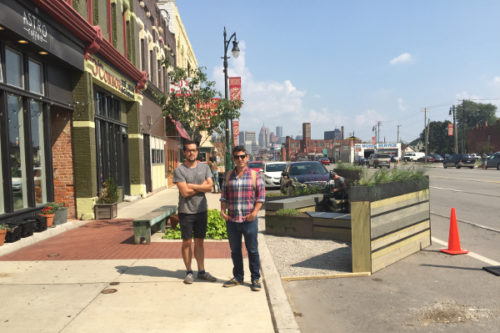 Chad Rochkind: Human Scale Studio provides people-centric solutions to cities, neighborhoods, and businesses. We were formed January 2015 to radically redefine how engagement is done. We take a street-level view to developing a place. Typically large scale development will take a 50k foot view of investment with the automobile as main mode of transportation. We ask, how do buildings contribute; how does it look and feel; and how are peoples' voices represented in public spaces? The parklet in front of Astro Coffee or Open Streets are forms of tactile urbanism. These contributed to the sense of things moving forward on Michigan Avenue, which expedited change process. We can think of the future as something that happens to us but Human Scale Studio tries to get neighbors thinking about their preferred vision of what the future looks like.

What was your experience with Build? 
CR: What I needed was an excuse to think about my business and something that I was held accountable to. I could've easily said I would do it on my own time but i was forced to think through those things. Putting a monetary value on that meant that I was investing in my business. I was in a community of people that are making their dreams come true which was inspiring and being a business owner translates across sectors.
"I was in a community of people that are making their dreams come true which was inspiring."
 

What's next for Human Scale Studio?
CR: Corktown has been going through business resurgence but Roosevelt park creates a dividing point when it should be a connecting point. During the Open Streets event, many people were surprised at how close Southwest Detroit and Corktown were. One of the things I would encourage in Detroit is the easing of regulation. There are ways to make it a healthy and safe environment that doesn't require 10 pages paperwork. We need a thinking framework and think how as the city evolves – particularly in neighborhoods were people can create things like bus seating or lights and people can make their own difference.