What is Daddy Doo Wops?
"It's more than soul food" says sister, Neco Washington [Nee-kō]. Daddy Doo Wops serves international cuisine combined with live music, theater performance, and a singing wait staff. The name is in honor of their father who was a Doo Wop singer. Toni Washington, trained in opera, and Neco, active in R&B and Jazz music, bring their passion of singing to their food business.
The food is inspired by their father who operated his own restaurant, Grandfather's Place on Detroit's westside, employing a number of family members. Toni and Neco acquired their parents' enthusiasm for good food. Their mother packed lunches consisting of "brioche buns, plantain chips, and real swiss, with the holes", says Neco; this was decades before any foodie movement. Sadly, in August 2012, Grandfather's Place shut its doors, leaving their father deeply depressed and family members finding other work. "The close was a rough time," says Toni, which spanned over 2 years. Today, the sisters have vowed to apply the the lessons learned from their father's restaurant and continue building the generational wealth that their father was planning for.
"Build gives people the help they need and the wind beneath their wings to fly."
What was your experience in the Build class?
"A flyer came in the mail to our parents' house for Grandfather's Place," the closed restaurant. It was a promotion for Motor City Match. The sisters used this as an opportunity to continue on the path of entrepreneurship. Through Build's partnership with Motor City Match, the sisters signed up for the Basics 8-week course to generate their business plan. "Build gives people the help they need and the wind beneath their wings to fly," says Toni.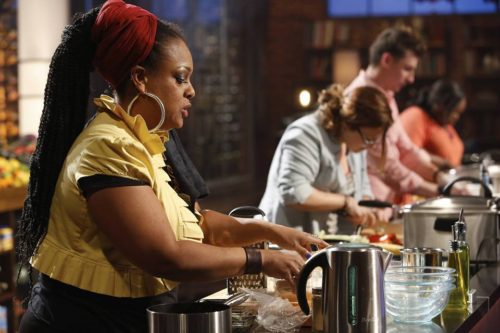 What are your recent developments?
Neco was recently featured on the season seven of MASTERCHEF. Neco went to Los Angles as one of 40 best home cooks in America to compete on the show. Daddy Doo Wops was also featured on Fox 2 Detroit's Cooking School segment. Currently operating from Detroit's West Village, the sisters are working towards funding the buildout of a food truck. Daddy Doo Wops believes in hiring young people just like their father did, with plans to source staff from local theater, vocal and performance art programs.
"Get back up and do it again."
What is the future of Daddy Doo Wops?
The long term vision is a multi-city experiential restaurant model, akin to House of Blues or Hard Rock Cafe with the waitstaff as the core entertainment. As a native Detroiter, Neco is looking forward to keeping the business in Detroit to "benefit from the energy that is building in the city."  The sisters see themselves as directly connected to the legacy of their father of the entrepreneurs of Black Bottom. "Get back up and do it again," was their dad's mantra as children, says Neco. "For us, Daddy Doo Wops has to work, so my dad feels like everything that he taught us wasn't in vain."