About
Clinical pharmacist
12 year Airforce veteran
Born and raised in Detroit, MI
Eartha's Natural: named after her grandmother Eartha Mae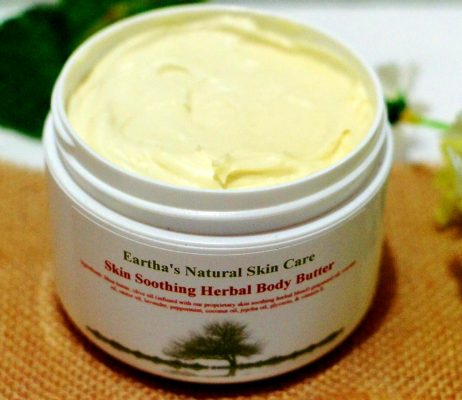 When my son was 2 years old, pediatricians prescribed medications or petroleum jelly for his itchy, dry skin. I knew from my medical background that there were long term side effects of topical steroidal medications. They don't resolve the underlying problem, only the itching. That caused me to search for natural products that would help the eczema issues but I couldn't find anything.
"I ended up with a really greasy, itchy baby."
I started to research natural herbs and oils that I could make myself and that's how I formulated my own products for Eartha's Natural Skin Care. I formulated a body butter and skin salve (ointment) that I would use all over his body. I stopped using conventional products: medication, skin creams, and traditional smell-good baby lotions. All those things that made his skin flare up. My products totally alleviated those symptoms and he no longer has those issues even until now [8 years later].
How long did it take to create your salve?
I knew shea butter makes the skin supple but I still had the issue with itching – that's where the herbs and oils come in. The formula didn't take long in my opinion. I zeroed in on the herbs and infused it in the oil. I started using it on him and noticed the difference on his skin right away. I would educate myself and read on more ingredients and products that were effective and made my own. I stopped everything we are taught to do as mothers: using baby products with perfumes, dyes and preservatives that actually cause the skin irritation. I would make my own oatmeal scrubs at home, now he's better. Some people doubt this, "Maybe he grew out of it." If he uses regular lotions and products today, he will itch.
"I call myself a hybrid entrepreneur, pharmacist by day and whatever free time I get I work on my business."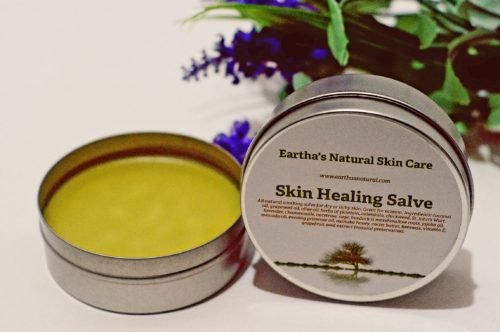 I've always been an entrepreneur at heart because I always think of making something better. I thought, 'am I crazy?' but I was told that I'm an entrepreneur, always thinking of other things to create. I have ideas and I want to start businesses, but I didn't know what that was. I'm and entrepreneur, no matter what I do I'm going to always want to do something else. Some people don't understand it.
What's happening with your business now?
I'm now coming out of hiatus. I felt like I was by myself and all over the place. Initially this product was not supposed to be sold. I was just a mother that wanted to find something for my son to stop itching. I would send [the salve] to his grandma's house and his aunt's house. They would say "His skin is gorgeous. Can you make me some?" It went from that to selling it. I packaged it and became a semifinalist in Hatch in 2013 for my vision for a products and natural skin care store. I received great exposure but I had to step back. I work in a hospital, taking care of patients and I have a business idea with no clue of what to do with it (bookkeeping, branding). I had the opportunity to go through the Build course and helped for me to see how to break even, figure out cost of a unit, price, manufacturing costs and how much to sell it for, don't sell yourself short. I took Retail Bootcamp with Tech Town and was awarded $7500 in their pitch competition. Now I'm finishing up my MBA in April this year to get a handle on what business is and for the management knowledge. I'm ready for branding and packaging and now I feel better prepared.