What is Left-Handed Branded?
The name Left Handed-Branded was inspired by my dominate left hand and I consider myself a high-function designer inspired by utility. I do custom clothing to fit the needs of my customers and I try to use sustainable fabrics for each of the products. My accessories are made of recycled materials. I am creating an urban market that does not look like anyone else. I lived in New York and everyone seemed to dress the same, down to their shoes. Almost like a uniform. I want to give people a little more "flavor" that lasts over the seasons.
What was your experience in the Build class?
Since I did not complete my business plan in New York, I finally took time to complete my business plan in the Build class. It was one-stop shopping for all of my business needs. I wandered into D:Hive while taking my niece on a tour and I grabbed some flyers. A year later, I finally signed up when it became Build Institute. My class facilitator, Amanda Brewington, was very helpful because she is also the business owner of Always Brewing Detroit. I was raised around mostly women so Build Institute being run by majority women was kinda welcoming to me.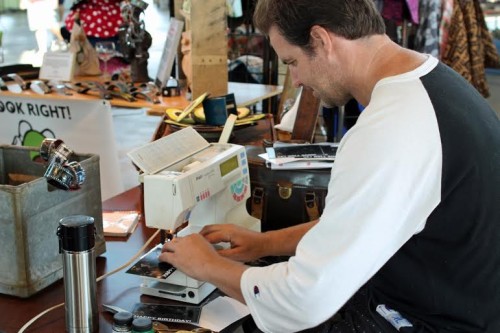 "I was raised around mostly women so Build Institute being run by majority women was kinda welcoming to me."
What are your most recent developments?
Through a podcast, I heard about Betabrand, a crowdfunding clothing manufacturer. I entered a contest to win a trip to Iceland, and although I did not win, I did receive enough votes to make it into their "Think Tank" (where ideas go to get produced on their website). As of January 2016, they are in the process of producing my "Your Own Assistant Camera Bag" and we are in talks to produce my "Women's Fitted Jumpsuit" as well. In December I was one of 10 local designers to be accepted into the Detroit Garment Group's "Fashion Incubator". This is a year long program where you work one-on-one with business and fashion mentors and produce a collection of clothing. The fashion show at the end of the year will showcase the designers in front of buyers, press, local store owners, and investors. I have relocated to the Fashion Incubator located on the 9th floor of TechTown, that has 24-hour access. I am really excited about this opportunity. I have hit the ground running in 2016!
What is your long term vision?
I have moved every seven years since I was 21 years old. I have never felt settled. But once I moved back home to Detroit, I love the support I have gotten from my family and other entrepreneurs. It is a much more supportive environment than New York. Six years ago, Detroit was not receptive to small business owners. I also want to put Hamtramck on the map! I live in an area that is diverse in people, food, and culture. I like being close to the city and I appreciate the quietness after living in New York.